This post is a guide on the popular WordPress plugin, Ultimate Member. Within this guide, we will go through the following
What is Ultimate Member plugin?
Ultimate Member is a WordPress social network plugin that was launched on the WordPress repo in 2015. It is labeled as a User Profile & Membership Plugin and it lives up to its name. Since its launch, it has become a very popular option for building an online WordPress community with over 200,000+ active installations and counting. The plugin itself has been downloaded over 7 million times, pretty close to 8 million. It is free to download and comes packages with same great features:
Ultimate Member Frontend Features
Profile Management: Users can manage Profiles from the frontend by adding avatars, covers and update profile fields
Authentication: Users can register and login to community from the frontend
Account Management: With the plugin, users can manage their account by changing passwords and emails from the account page.
Member Directories: From the frontend, users can view search for members from a directory of users.
Ultimate Member Admin Features
Profile Field Creation: Administrators can create Profile and Registration fields through a drag and drop interface
Custom Role Creation: Custom Roles can be created to give certain user particular permissions
Conditional Navigation Menus: Nav menus can be seen/hidden to particular users based on their role or logged in status.
Content Restriction: As an admin, you can restrict access to certain pages and posts by selecting which roles have access to it
What to build with Ultimate Member?
If you are interested in using Ultimate Member, here a few ideas of communities that you can create:
Dating Sites
Community Networks
Office Intranets
Family Private Sites
Fan Sites
Education/Tutor Sites
Out of the box, the UM plugin can assist you in getting a good starting point for your site.
How to install Ultimate Member
Like any other plugins, installing the Ultimate Member plugin is quite simple.
Installing the plugin via the admin
While logged into your WordPress site admin
Go to Plugins and click Add New
Search for Ultimate Member
Click for details and hit Install
Once the install is complete activate the plugin
FTP method
Click Download
Log into your site via FTP and navigate to your plugins folder
Unzip the plugin and upload the folder "ultimate-member" to the plugins folder
Once upload is complete, go to WP Admin -> Plugins and search for "Ultimate Member"
Click activate the plugin
Useful links on how to install WordPress plugins
How to Install a WordPress Plugin – Step by Step for Beginners
Installing the plugin from WordPress.org
Features
Registration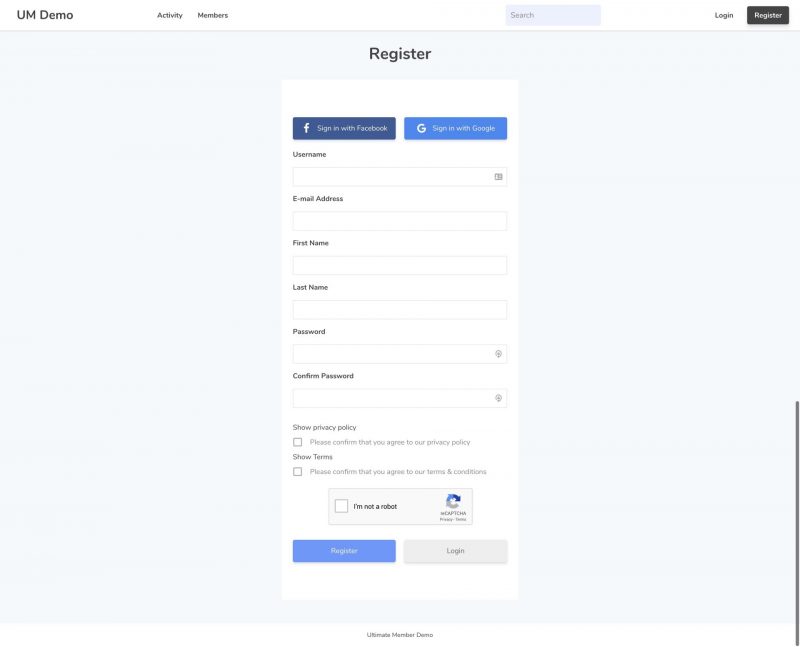 Using this plugin you can create registration and login pages all in the front-end of the site. Your visitors will never see the backend i.e., WordPress admin panel and will not have any idea that they are on a WordPress site.
Here are some awesome features of Ultimate Member plugin related to registration:
Registration Status: Choose if you want to pre-approve all user registration or they require an email activation or even be manually approved by you or the admins.
Multiple Registration Forms: You can create multiple registration forms for different purposes or different roles on your site. That means you can have unique registration forms for each of your purpose or role on the site.
Registration Action: After a user register on your site, you have the control to choose if they will be redirected to the user profile page or a custom URL.
Role Selection: You can also create a drop-down menu of roles in your registration page so that the users can choose the role they want to register.
Role Assignment: Using Ultimate Member, you can also create different forms with different roles assigned to them. So if the users register using that form, they will be automatically assigned to that role.
Default User Role: You can choose a default user role which is assigned to all new user registration.
Login
With Ultimate Member your users can easily login to your site from the front-end of your site without seeing the WordPress login page.
Here are some additional features related to logging in:
Password Reset Link: You can add a link to reset the password of your users on the login page.
Anti-spam Measures: The plugin has triple anti-spam protection measure on the login page which includes hidden honeypot field, time delay on submit and WordPress nonces.
Customizable: Fully customizable login page including hiding register button, change button text and much more.
User Profile Features
You can add a fully customizable and beautiful user-profile page and features as per your requirement.
The user profile features include:
Custom Appearance: You can give your profile pages awesome looks by customizing its appearances such as changing the cover photo aspect ratio, profile photo shape and much more.
User Bio: You can have a "Bio" feature for your user's profile or you can disable it too.
Remove Cover Photos: Don't like the cover photos? You can disable it too. They also have a different design to cover it up.
Display Name: You can choose the display name of your users.
User Info: You can highlight important user info by selecting from your specific fields.
Profile Permalinks: Choose between different options for the permalinks of your user profiles.
User Roles
With Ultimate Member you can create multiple user roles and give them unique permission and capabilities.
Here is one of its user role feature:
Admin Permission: You can decide if a role can have the administrative permissions or not. If they are permitted they can see the WP Admin Bar at the top and can also access the WP Admin Dashboard. If they don't have admin access, they won't see the WP Admin Bar even after logging in.
It has some more features related to registration, login, access etc. that I'm not mentioning here because it's relative to the features mentioned above.
Member Directories
You can also create advanced member directories where people can search for each other.
Let's see some of the things that you can do with this feature:
Display Certain Roles: You can decide which roles should be displayed in the directory and which should not.
Social Icons: Show social icons of each user in the profile card on the member directory.
Search Options: You can enable a search box for member directories so that user can search for each other easily. You can also limit the access of search feature by user roles.
The search box also has the search filter options which you can turn on or disable if you want.
Private Content OR Access Control
You can restrict the users globally or on a per page basis using this feature. This is the most interesting feature for most of us and we can use it to generate some revenue from our site.
Let's see some of the possibilities of this feature:
Global Site Access: You can either restrict to all unregistered users from visiting your website or you can make it available for everyone.
Access Per Page/Post: You can decide if you want a page or post to be available for everyone or registered users or to a specific role only. This will override the global setting.
Logged-In Users Only: You can also restrict your posts and pages so that only the logged-in users can see them.
Extending Ultimate Member features with addons
Finding free Ultimate Member plugins
If you are just starting out with the Ultimate Member plugin, you may be interested in spending as little money as possible. So, free plugins may be better for you. You can find free plugins by going to the WordPress plugin repository and searching for the keyword "ultimate member" or "ultimatemember" to see what is available. For instance, you can find the lite version version of the UM Gallery Pro plugin on the WordPress repo. As the Ultimate Member plugin become more popular, more developers will continue to develop addons to support it. You can also take a look at this list of free plugins, it is not exhaustive but it is a good start.
Here are few
Terms & Conditions: By using this extension you can add a check-box on your registration form and require users to accept your terms & conditions before registering.
Google reCAPTCHA: Stop spam bots from your registration and login pages using Google reCAPTCHA free extension.
Online Users: Display who is online on your site using this extension.
Login Widget for Ultimate Member – Easily add a login widget that works with Ultimate Member
UM Infinite Scroll Member Directory
UM Custom Tab Builder Lite – An easy way to add custom profile tabs to Ultimate Member Profile. Ultimate Member 2.0 compatible
Premium Plugins
For users that no exactly what they would like and ready to find premium plugins, then you are in luck. Ultimate Member  team does have addons to support their Ultimate Member plugin and even offer a bundle.
Instagram: This extension allows your users to show their Instagram photos on their profile.
MailChimp: Use it to add all user registration to your MailChimp lists.
Meet Me: Meet Me is the Ultimate Member extension that can drastically increase your website's user retention by almost 200%. The extension matches your users based on similar interests.
You can use this plugin to make just a site where people of same interest can make friends with each other or a dating site or a website where business professionals can meet each other.
I mean the possibilities are limitless. Just think what you can do with it on your site.
LearnDash for Ultimate Member: This is one of the most useful extension out there for the LearnDash users. By using this extension you can enhance your learning website and boost the sales of your courses.
myCRED: Use this plugin to integrate myCRED with Ultimate Member.
User Tags: This extension lets you add a user tagging system on your site.
Private Messages: Allow your users to interact with each other using private messages on your site.
User Reviews: It allows your users to rate each other using a 5-star rating and review system.
WooCommerce: Are you using WooCommerce for your eCommerce business? This extension will let you integrate WooCommerce and Ultimate Member together.
Notices: Show important notices to your users using conditional notices.
Private Content: This extension will help you to create private content that only registered users can see.
Groups: Allow your users to create and join groups for different interests, topics etc.
Real-Time Notifications: Add a real-time notification system to your website for your users.
bbPress: Using this extension you can integrate bbPress with Ultimate Member plugin.
User Gallery for Ultimate Member: As the name suggests, it allows your users to upload their photos & videos on their profile. It also allows users to create different albums which can be disabled too. Think of this feature like Instagram.
Social Activity: This one lets your users create posts and see others activities, somewhat like Facebook.
Followers: Create a system where users can follow each other on your site.
Friends: Allow your users to become friends on your site.
Social Login: Allow your users to register or login using their Facebook, Twitter, Google+, LinkedIn etc. accounts.
Profile Completeness: Encourage your users to complete their profile by showing profile completeness in percentage.
Verified Users: Add a user verification system like Facebook, Twitter, Instagram etc. So that your users can be verified.
Post Recommendations for UltimateMember: This extension allows your users to choose categories of their interests and then recommends latest posts based on the selected categories.
Faceted Search for Ultimate Member: This extension will help you put an advanced search box with filters for your community. You can filter the results by professions for example.
Events Pro for Ultimate Member: The Event Pro extension will allow your users to post about their events which can be seen by each other.
Docs for UltimateMember: The Docs for UltimateMember add-on allows your users to upload documents and they can also be downloaded by others or public.
What about Ultimate Member themes?
Although there aren't a lot of themes available for Ultimate Member as you would find for BuddyPress. There are 2 main themes currently available.
Ultimate Member Theme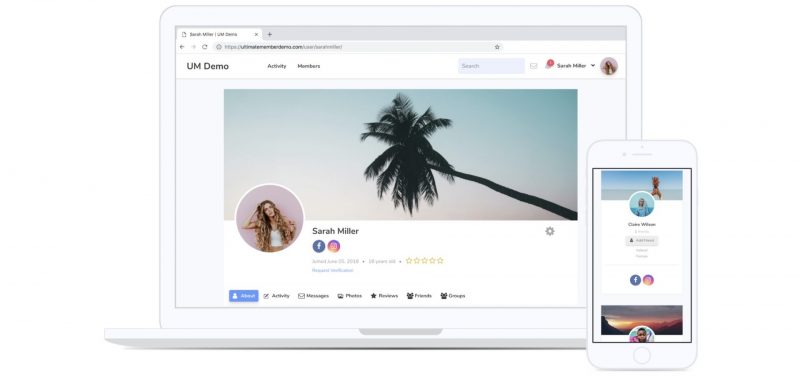 The Ultimate Member Theme is very responsive, light-weight, beautiful and comes with a deep integration for Ultimate Member plugin and sites that have logged in users.
Reasons to use Ultimate Member Theme:
Built with Ultimate Member Team
Light-Weight and Mobile Responsive
Integrate with Ultimate Member & all its extensions
Purposely built for sites with logged-in user.
Works with Beaver Builder & Elementor WordPress page builders.
Works with all modern browsers.
The theme is built by the Ultimate Member core developers so you can sit back and relax, there's nothing to worry about. No other WordPress theme will be as compatible as this with the Ultimate Member plugin.
Here's are some awesome features of this theme as mentioned on their official website:
Easy Custom Styling: It integrates with the WordPress customizer and lets you customize the looks of your website very easily with a few clicks.
Extension Integration: The theme is integrated with extensions such as Real-time Notifications, Private Messages etc.
This theme also lets you customize the looks of the features provided by the Real-time Notification and Private Messages plugin.
Logged-in User Header: There are different sets of header options available with this theme for logged-in users. Also, if you are using the Real-time notification and Private Messages extension, then their icon will also show up on the header.
Logged-out User Header: It also has the variations of header layouts for the logged-out users. The logged-out header shows the "login" and "register" call-to-action on the header.
Top/Bottom Header Bars: The theme has two optional header bar which has different sets of features and is really handy and helpful.
You can purchase this theme at a minimal cost of $99 per year for a single site license.
Social Tribe Theme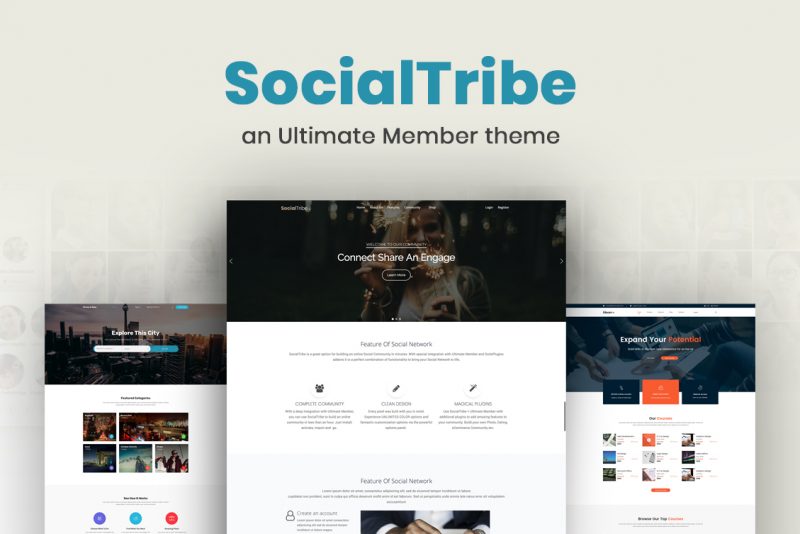 Social Tribe is one of the best WordPress themes that are available right now and completely compatible with the Ultimate Member plugin.
The Social Tribe theme is built by SuitePlugins.
Now let's look at some feature highlights of this theme with screenshots:
Easy-To-Use Customizer: Like the Ultimate Member Theme, this theme also integrates with the WordPress customizer to give you an ease of altering the designs and looks.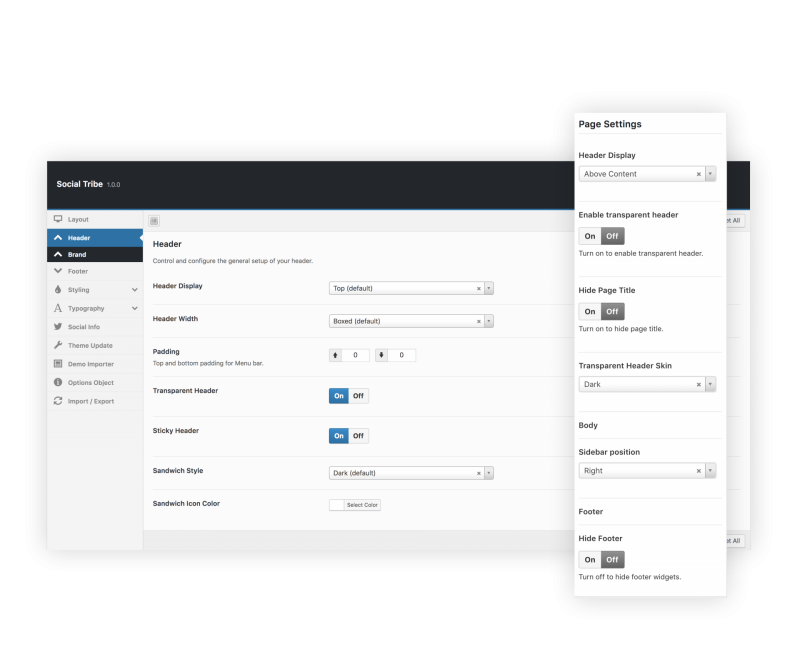 Custom Member Directories: As the theme is fully compatible with the Ultimate Member, it also has 3 different layouts to choose from for your member directories. Have a look:
Some other features that are really exciting about this theme:
Custom Profile Design
WooCommerce Ready
Full Screen & Boxed Layouts
Translation Ready
Sticky Navigation
Child Theme Ready
Unlimited Colors
Left OR Right Sidebar Options
Drag & Drop Page Builder
Fully Responsive
Fully Customizable
You can purchase this theme for as low as $29 per year which I think is a great deal. Click here to buy this theme.
Summary
I hope you found this article useful and found something informative about Ultimate Member. It truly is a great plugin to try out to build your online community. If you are interested in learning more about Ultimate Member, you can follow our Ultimate Member Tips and Tricks where we discuss little things you can do with Ultimate Member or you can find more resources on Ultimate Member from here.